Power Washing Services
in Charlotte NC and Nearby Areas
Here at the Pressure Wash Guys, we provide pressure washing services to residential customers in the greater Charlotte area. Pressure washing, also referred to as power washing, is one of the most effective ways to clean exterior surfaces around your home. A power washer is filled with water and cleaning solutions or disinfectant. The pressure washer then releases a strong and steady stream of water and cleaning solution, helping to lift dirt, dust, residue, mildew build-up and mold from the intended surface. This helps to get the surface as clean as possible, while also prolonging the life of the surface.
Pressure Washing in Charlotte NC and Nearby Areas
Pressure washing services can help you with your exterior cleaning. There are many exterior surfaces that can benefit from this cleaning solution. Concrete cleaning, deck cleaning, and home siding cleaning are just a few of the most common surfaces that we clean. Power washing can help to get a surface as clean as possible or it can be used to prepare a surface for painting or staining, such as pressure washing a deck prior to deck painting and staining. Here at the Pressure Wash Guys, we are a locally-owned business that is committed to helping you get your home's exterior clean. We offer quality service at an affordable price.
Roof Cleaning in Charlotte NC
Another service that we are proud to offer is roof cleaning, also referred to as roof washing. Roof cleaning helps to remove debris and residue from your roof, including pollen, pollutants, mildew, algae and bird droppings. This helps to remove elements from your roof that can damage your roof, while also helping to remove dirt and dust that can make your roof look darker, dirty or uncared for. It is recommended that you have your roof cleaned at least once every other year.
Other Power Washing Services We Provide
As you look to hire a professional for pressure washing near you, you may be curious to learn what other services the Pressure Wash Guys offers. These include:
If you have a surface that needs to be professionally cleaned, reach out to us to find out if we can get that surface cleaned for you!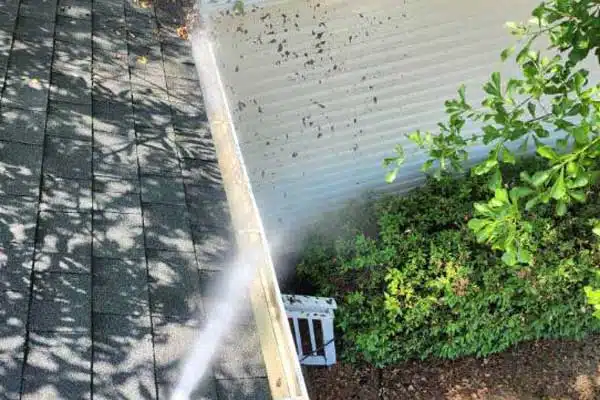 Why We Love Charlotte NC!
When you do business with our company, you are doing business with a local company who lives and works in the same community as you do. We love serving the greater Mecklenburg County area, and running into our customers at the grocery store, at restaurants, or at sporting events. Some of our favorite things about Charlotte include the Prosperity Church Road neighborhood, the Charlotte Hornets, the Carolina Panthers, the Nascar Hall of Fame, the Tradition Golf Club and Mallard Creek Park.
Frequently Asked Questions About Power Washing
Are You In Need of Power Washing Services in Charlotte, North Carolina? Hire the Pressure Wash Guys Today!
Power washing is one of the best ways to get your exterior surfaces cleaned. It is fast and efficient. However, the average homeowner should not attempt to power wash their surfaces themselves, as you can damage a surface if you are not sure what you are doing. When you need the exterior of your home cleaned, let the Pressure Wash Guys complete the job. Call us now to schedule your appointment.